Do you need a go-to dish to bring to all those graduation parties, barbecues, wedding and baby showers on your calendar? I've got your problem solved. Everyone loves this tasty Asian-inspired salad. It's perfect for brunches and parties because it just gets better and better the longer it sits.  It's also super easy to make.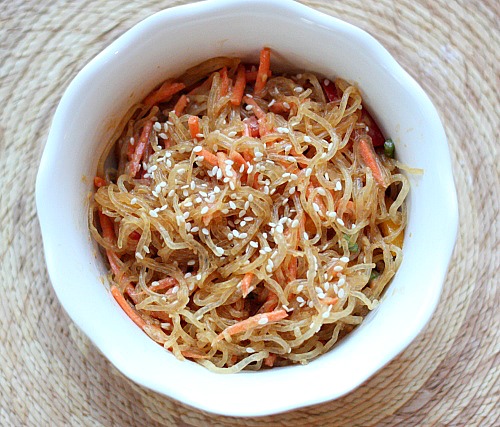 Have you ever tried kelp noodles before?  They're actually quite versatile.  They're all natural and made from preserved raw kelp.  They don't require any heating, but I do soak them a while before I use them to soften them up a bit. They're crunchy at first but the longer they sit in the marinade or dressing, the softer and more noodle-like they get.  They don't taste fishy at all and are the perfect substitute for  pasta.  I also love to combine them with julienned zucchini to mix up the flavors a bit.  They're a great way to add some sea veggies into your diet for thyroid function and as a great source of natural iodine.
This recipe is courtesy of Ryan McGrath.  She is my partner in The Detox Kitchen, my un-cooking inspiration, and an amazing raw foods chef.
Here's the recipe:
Ryan's Famous Almond Sesame Noodles
Ingredients
For the almond butter sauce:

1/4 cup almond butter
1/4 cup tamari
1 Tbsp sesame oil
1 Tbsp rice vinegar
1 Tbsp agave nectar
1 small clove garlic, peeled and minced
1 tsp minced fresh ginger (or 1/2 tsp ground ginger)
1 tsp siracha hot sauce (optional)

For the noodles:

1 (12-ounce) bag kelp noodles, rinsed and drained
2 medium carrots, peeled if desired and cut into matchsticks
1 large red bell pepper, stemmed, seeded, and cut into matchsticks
3 green onions, white and light green parts thinly sliced
1/4 cup dry cashews (optional)
2 tablespoons sesame seeds
Instructions
In a small bowl, whisk together all sauce ingredients.
In a large bowl, combine the noodles, carrot, and bell pepper. Add the almond butter sauce and toss to coat.
Refrigerate for 2 hours, until chilled, or serve immediately. Garnish with the green onion, cashews, and sesame seeds just before serving.
http://foodconfidence.com/2013/05/21/recipe-redux-ryans-famous-almond-sesame-noodles/
It's recipe redux so don't forget to check out my awesome reduxers below for more healthy brunch and party food!