Try this gluten-free, high protein mung bean and edamame fettuccine tossed with a creamy leek and pumpkin sauce for a simple weeknight meal!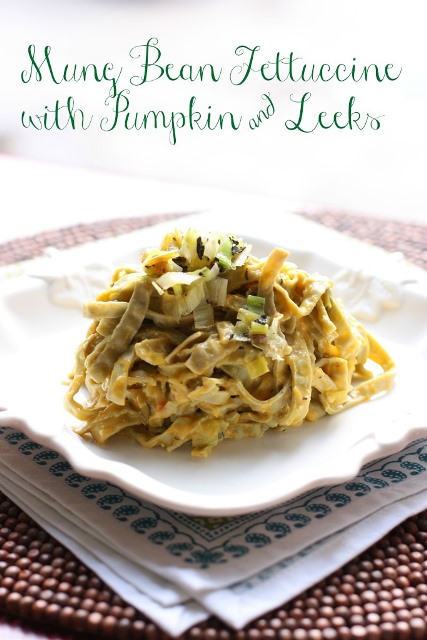 I love experimenting with these fun guilt-free bean pastas from Explore Asian. I make my black bean pasta with olives and cauliflower all the time. It's so filling and high in protein and fiber…what more could you want out of pasta, right? This time I tried the mung bean and edamame fettuccine style noodles and tossed them with a creamy leek and pumpkin sauce.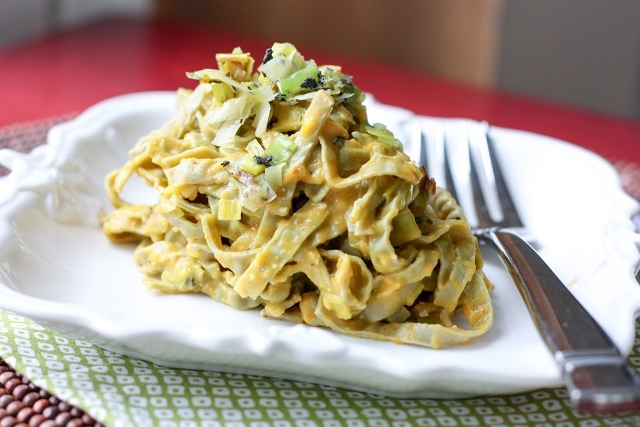 This dish was so simple and tasty but is really more about the leeks than the pasta! I love cooking with leeks, they are so flavorful, yet mild…not too onion-y at all. I created this dish for my Inspired Vegetarian column over at Healthy Aperture. To get the simple weeknight recipe for Leek and Pumpkin Fettuccine you'll have to head over there. You'll also find my addictive Sweet Potato Fried Rice from last month there, too. So go on, click on over to Healthy Aperture and get inspired!
{ 1 comment }