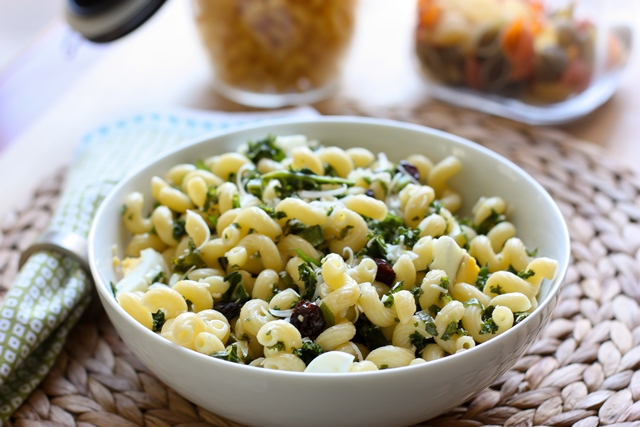 Shredded kale, hard-boiled eggs, dried cherries and Asiago cheese are tossed with olive oil and lemon for a quick and easy weeknight kale pasta meal!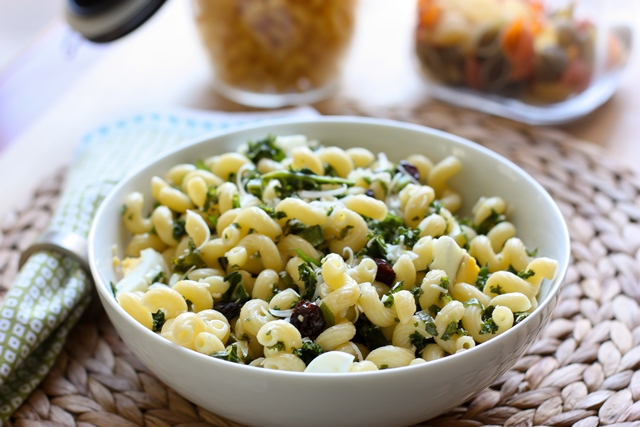 [Disclosure: By posting this recipe I am entering a recipe contest sponsored by the National Pasta Association and am eligible to win prizes associated with the contest. I was not compensated for my time.]
It's hard to come up with a "new" pasta dish for a pasta challenge. I grew up eating pasta with just about everything. From eggs to cauliflower to pumpkin, I've paired pasta with it all. But this contest is more about the fact that pasta is an affordable, fast and healthy option for dinner. And it's true. I make pasta one way or another every week at my house and I'm thinking anyone who feeds children does, too.
This dish has a few winning aspects to it:
It's a true pantry dish: you can use any type of pasta you want (see below), you can also use any kind of green you want, and you can use any kind of cheese you want. So whatever you have on hand, use that. So versatile.
Besides the pasta and the eggs, it's really a no-cook dish.
It's equally good warm or cold from the fridge.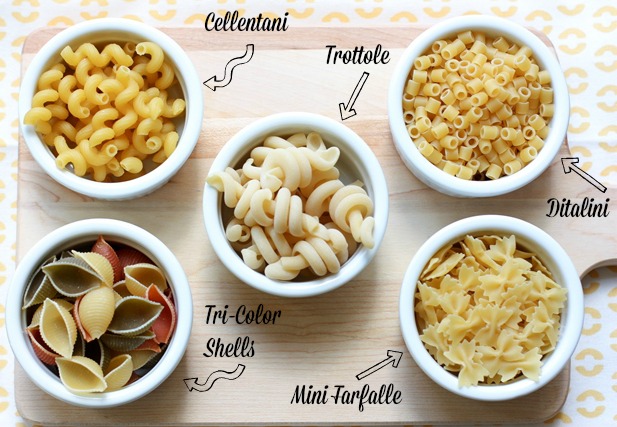 So let's talk about pasta, shall we? There are so many different types to choose from. I made this kale pasta recipe a few times for this challenge and settled on the cellentani. I wanted a hearty pasta with a nice bite.
A good rule of thumb for choosing pasta is "the lighter the sauce, the thinner the pasta."  You can't really go wrong with my olive oil and lemon dressing in this recipe, but once you start getting into thicker, meat based sauces, you'll want to use a thicker pasta (think mac and cheese, it wouldn't be nearly as good with angel hair spaghetti). Another really important tip for preparing pasta is not to over cook it. They tell you how long to cook it on the box for a reason. Trust them and you will get perfect pasta every time.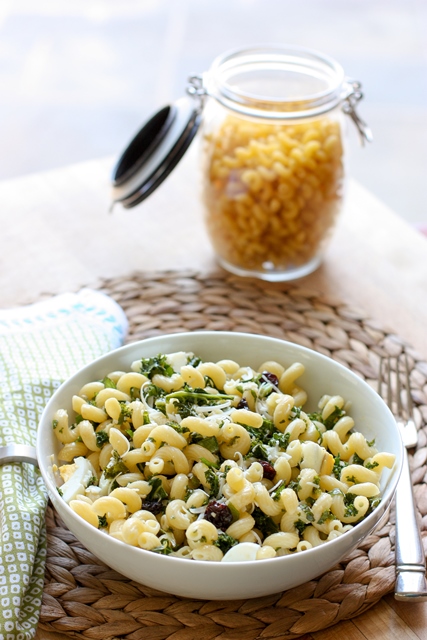 I also wanted my kale pasta to be "make-able" for everyone, so I actually bought of all my ingredients from Walmart. That's right, except for the dried cherries, everything was found at my local superstore. I will admit, I don't usually shop at Walmart but I wanted to see if I could find all my ingredients in one store for this dish. And I did, mostly.
I hope you will try this kale pasta dish for a busy weeknight meal that everyone will enjoy.  And stay tuned later this week, I have one more pasta dish to share using a childhood favorite ingredient.
Lemon Kale Pasta with Dried Cherries & Eggs
Ingredients
1/2 box pasta
2 cups shredded kale
1/2 cup dried cherries
4 eggs, hard boiled and chopped
1 small clove garlic, finely chopped
4 mint leaves, finely chopped
1/3 cup asiago cheese, shredded
2 Tablespoons olive oil
juice from 1/2 lemon (I used a meyer lemon)
salt and pepper, to taste
Instructions
Cook pasta according to package directions. Boil eggs. Shred kale and steam in microwave 4 minutes or until softened. In a large bowl, combine cooked pasta, cheese, shredded kale, dried cherries, chopped eggs, garlic, and mint. Add salt and pepper, to taste. Add lemon juice and olive oil and toss well to combine. Serve warm with more shredded cheese! Also good cold.
http://foodconfidence.com/2014/10/05/lemon-kale-pasta-eggs-dried-cherries/