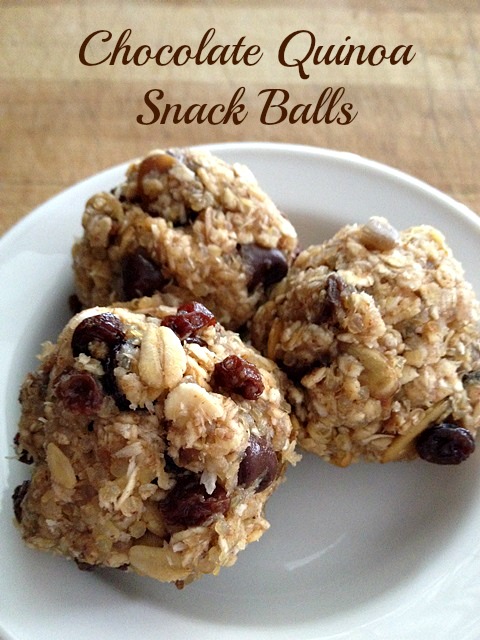 What do you get when you mix quinoa with chocolate?
You get people going crazy for these delicious no-bake chocolate quinoa snack balls!
For Meatless Monday this week I posted a photo on my Facebook page of these quinoa snack balls I had made the day before. Well, this post went as "viral" as I'm probably ever going to get in this lifetime.  I tell you, people go crazy for quinoa! These delicious little snack balls are a mix of chocolate and quinoa with dried cherries and oatmeal. They are my favorite treat to whip up when I've made a little too much quinoa. I store them in the fridge and enjoy 1-2 in the afternoon with some tea. They are the perfect pick-me-up!
Since I got over 40 "shares" of this recipe, I thought the least I could do was share how I made them with you, my awesome blog readers.   🙂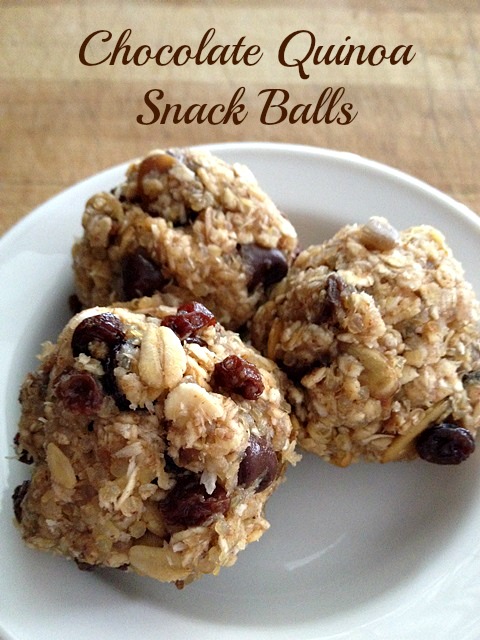 Here's the recipe, enjoy!
Chocolate Quinoa Snack Balls

Ingredients

1 cup cooked quinoa
1/3 cup sunflower seeds
1 cup oats
1/3 cup dried cherries
¼ cup unsweetened coconut
1/3 cup maple syrup
1 tsp vanilla extract
2 Tbsp almond butter
1/2 cup dark chocolate chips
1/2 tsp sea salt

Instructions

In a large bowl, combine the quinoa, sunflower seeds, oats, dried fruit, and unsweetened coconut, mix well.
Then add maple syrup, vanilla extract and almond butter to bowl, mix again until well combined. Then add your dark chocolate chips and sea salt.
Mix well again until just combined.
Using wet hands, gently roll mixture into golf ball-sized balls.
Let chill for 2 hours before eating!
Store in fridge.

http://foodconfidence.com/2012/05/23/recipe-chocolate-quinoa-snack-balls/