If you're ready to save tons of time, money and energy each week AND keep your family healthy, then get ready for my best kept grocery shopping secrets that will make your life so much easier!
You and I know that being healthy means more than just looking and feeling good…it also means less visits to the doctor and more time and energy spent doing the things you love! Your  mood, energy level, ability to focus and overall attitude has everything to do with what you eat.  When your family is eating healthy, it means less sick days from work and school, better grades, more focus, and increased concentration.
That's why I created this unique 4-step system that will transform the way you grocery shop.   Clients come to me all the time wondering how to juggle work, family, errands, and more. I love giving them back a few of those hours each week with my pre-shopping strategies.
This is what I will show you how to do:
Step 1:  Purge your pantry! Get rid of the junk that's making you and your family fat, sick and tired.
Step 2:  Make your pantry work for you by creating your "foundation foods" grocery list that will be your secret weapon while grocery shopping.
Step 3:  Learn the meal planning tricks that I use myself to ensure  that every meal and snack is accounted for.
Step 4:  Get in and out of the grocery store fast, buying only exactly what you need, saving you valuable time and money.
I'm Danielle Omar, a nutrition strategist and food confidence expert.  I create easy-to-use nutrition tools to help busy people make smart food choices.
As a Registered Dietitian and nutrition expert, I have helped hundreds of busy professionals and families eat healthy. I've spent countless hours in the grocery store and in the kitchen with my clients, teaching them how to make healthy food choices and plan meals, how to read a food label, and how to shop smart.  I've enjoyed great success and feel lucky to be doing what I love.
Following my four-step system is easy.  It's a foolproof process for stress-free grocery shopping that starts before you even enter the store.  By following a few simple steps before shopping, you will transform how you shop and cook…and ultimately your health!
Here's what you get with the Busy Woman's Guide to Stress-Free Grocery Shopping:
Stress Free Grocery Shopping System  My easy to follow step by step system explains exactly what you need to do before you grocery shop to save time and money.

"7 Ways" Recipe Collection Over 100 easy to follow (and healthy) recipes for almost any type of meal. From side dishes to salads and ground beef to quinoa, learn seven different and unique ways to cook your favorite main ingredient!  Click here to see a sample recipe page.
Meal Planning Templates Meal planning will be quick and easy with a specific family weekly planner or individual/couples planner.  Taking this step each week to map out your breakfast, lunch, dinner, and snacks will not only save you money on your food bill, it will save you time in the kitchen and help you feed yourself and your family healthy (and delicious) meals.
"Foundation Foods" Grocery Shopping List Your secret weapon for stress-free shopping!  I've created a shopping list that includes all your everyday essentials, plus the extras you need to cook any one of my "7 Ways" recipes.  This grocery list is worth the entire program itself! It is your inventory list of foundation foods that will prepare you to create delicious and healthy meals every day of the week.
Bonus Goodies Include: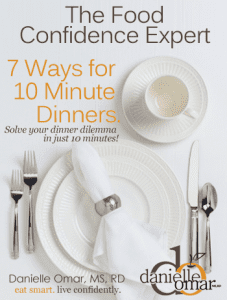 BONUS #1: Time-Saving Recipes Your Family Will Love You're going to love my one-line recipes (that's right, one line!) that shows you how to whip meals up in no-time. I promise, you don't have to be a great cook to get everyone eating the same meal and if you do love to cook, you're going to get some serious me-time back with my time-saving tips.
BONUS #2: Personalized Templates Allergic to nuts? Need to go gluten free?  No problem.  You can edit and personalize the meal planners and grocery list templates to satisfy your family's unique food preferences.
BONUS #3: Kitchen Cooking Essentials Make cooking fun and efficient with a comprehensive list of time-saving kitchen tools and equipment that are essential for creating delicious and nutritious food.

BONUS #4: Facts on Freezing Food  Not sure how to freeze that leftover sauce or bulk chicken breasts you bought on sale?  Learn step by step how to freeze (and thaw) bulk food and meals to save time and money each week.

BONUS #5: Guide to Organizing Your Pantry  The most important part of my system is an organized pantry. This step alone will save you hours of time and hundreds of dollars in grocery costs.  Learn smart tips and strategies for organizing any size pantry area — from a walk-in to just one cabinet, this how-to guide gets your pantry ready for stress-free cooking!

BONUS #6: Substitution Guide  Out of chili pepper?  Don't have any eggs?  Don't let the lack of an ingredient stop you from making a great dish!  This detailed how-to guide for making successful ingredient substitutions will solve any ingredient dilemma, PLUS show you how to make almost any recipe healthier.
BONUS#7: Terms to Know When Cooking Not sure when to chop or slice?  Don't know the difference between roast and bake; sauté and simmer?  This guide will give you the confidence to follow any recipe!
This System Has Changed the Way I Cook!

Using Danielle's guide has transformed the way I cook for myself and my family!  I had pretty much given up learning (or caring about) cooking.  I felt I wasn't cut out for it and thought it was too hard to figure out.  I had learned to eat the same things over and over.   In just a few short weeks, this system has changed the way I cook.  I now have the confidence to make any meal I want and am excited about all the food possibilities out there!

Mina, President, Synergy Design & Construction
Grocery Shopping Is Fun and Easy!

Working with Danielle has impacted my life in every way. I feel confident when I am grocery shopping because I know what I am looking for in my food. I know how to read labels and not focus too much on calories, but to also look at fiber, protein and carbs. It makes grocery shopping a lot more fun and easy. Cooking feels amazing because I know it is healthy. I have no reason to beat myself up, because I know what I am eating.

Jennifer Donnell, new mom
Get started saving time and money today!
Order now and receive a beautiful 3-ring binder, meal planners, extensive grocery list, and over 100 quick, easy and healthy recipes!
$47.00

Still have questions?  I'm happy to help out!  Just contact me at Danielle@foodconfidence.com.  I look forward to helping you make your meal planning, grocery shopping, and cooking a stress-free experience!
Healthy regards,

My Personal 'Food Confidence' Guarantee

If you don't believe that this guide is worth every penny you spent, I will refund 100% of your investment.

Just let me know within 30 days of your purchase.

That is my Personal Guarantee.
Want more nutrition strategies? Get your free
Food Confidence newsletter
straight to your inbox every other Friday for inspiration, recipes and tips to help you become a confident eater.