I have had a crazy week. Preparing for my upcoming detox, working with my individual clients, teaching my nutrition class at NOVA…it's Friday night I am beat.  The last thing I want to do is be creative in the kitchen.  While I was thinking about what to cook for dinner I realized that it was the 20th of the month and my recipe redux post was due on the 21st!  I didn't even know what food was being reduxed much less have a plan for it. I ran to my computer to check the website.
"Spring Shoots." Seriously? Who has shoots lying around in their kitchen?  You might think it's nuts, but this girl did.  I bought them earlier that week at the H Mart.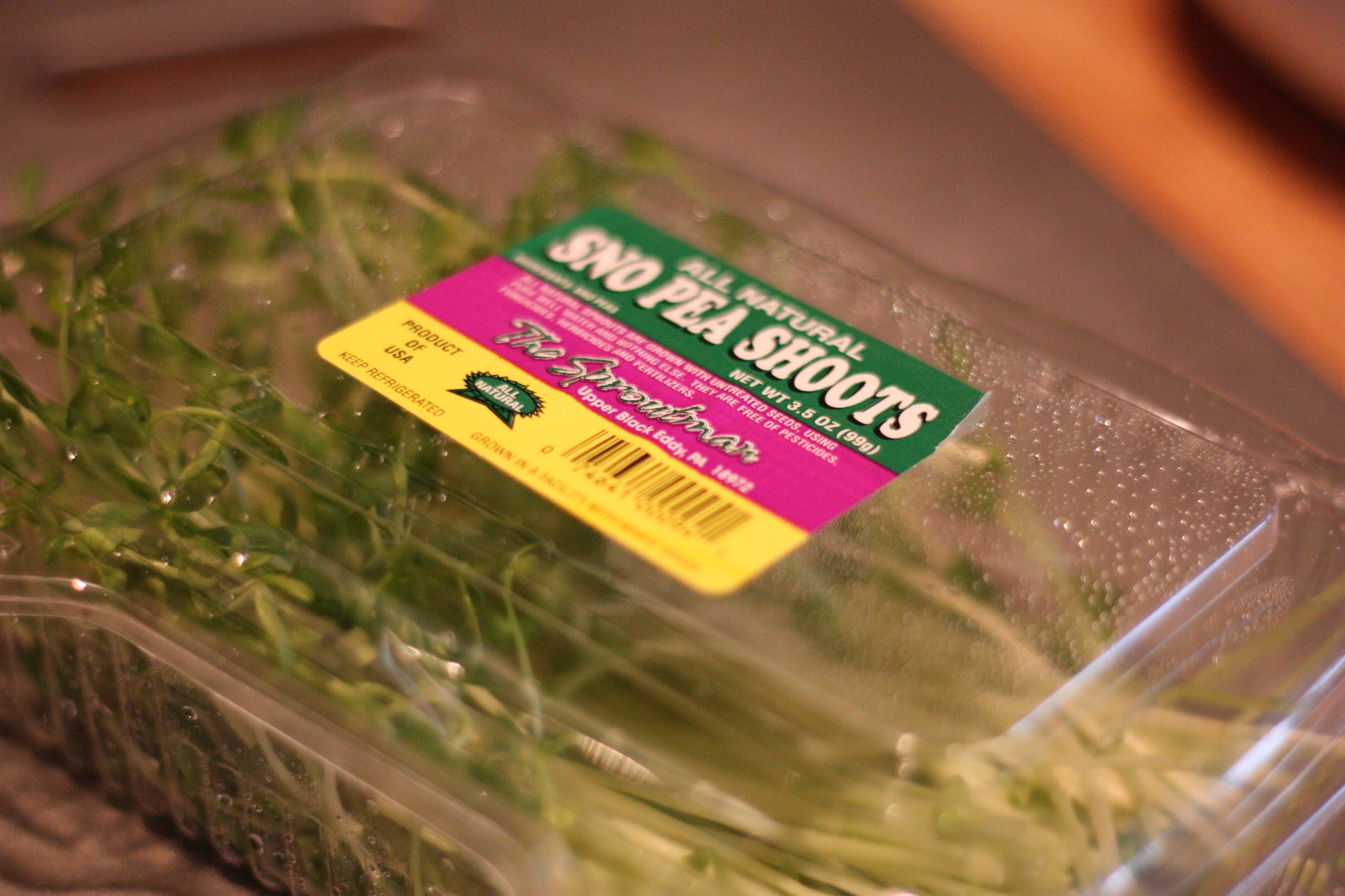 I'm not kidding.  I had Sno Pea Shoots sitting in my fridge.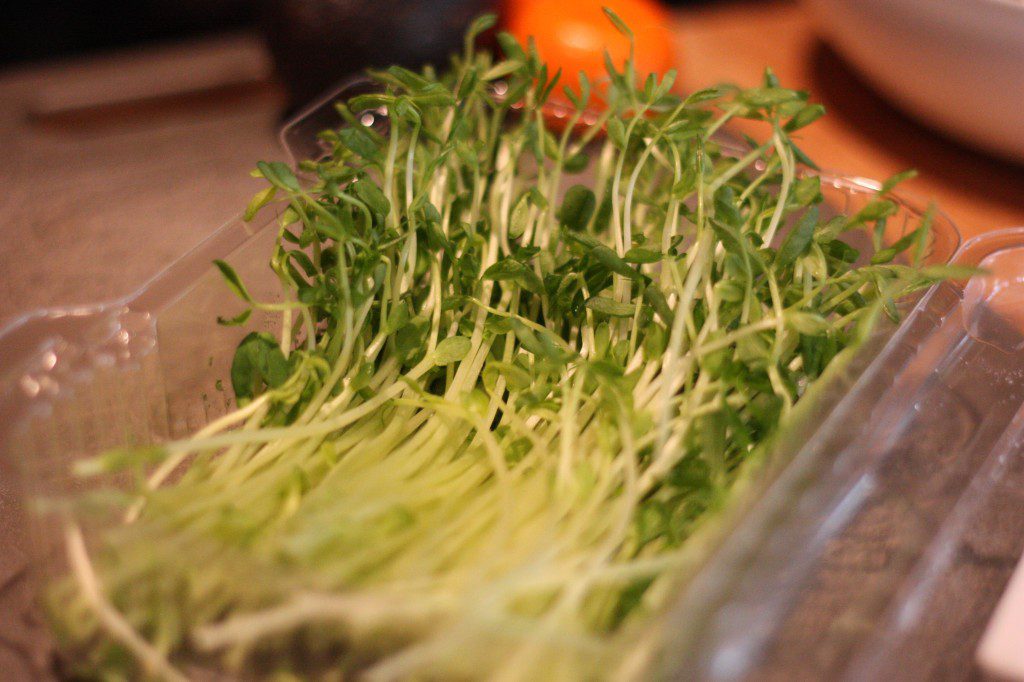 Aren't they gorgeous?  They're also healthy.  Chock full of vitamins A, B, C and E, calcium, chlorophyll, iron, magnesium, niacin, phosphorus, potassium, and protein.
Still not wanting to be creative, I remembered this awesome salad I tried at the salad bar at Whole Foods.  It was a light and airy salad consisting of edamame, some kind of sprout, avocado, and mango.  Well, I didn't have edamame or mango but I did have avocado.  I consulted my friend zesty cook and he suggested I improvise with what I had on hand.  Which was honeydew melon and mandarin oranges.
This is what I came up with.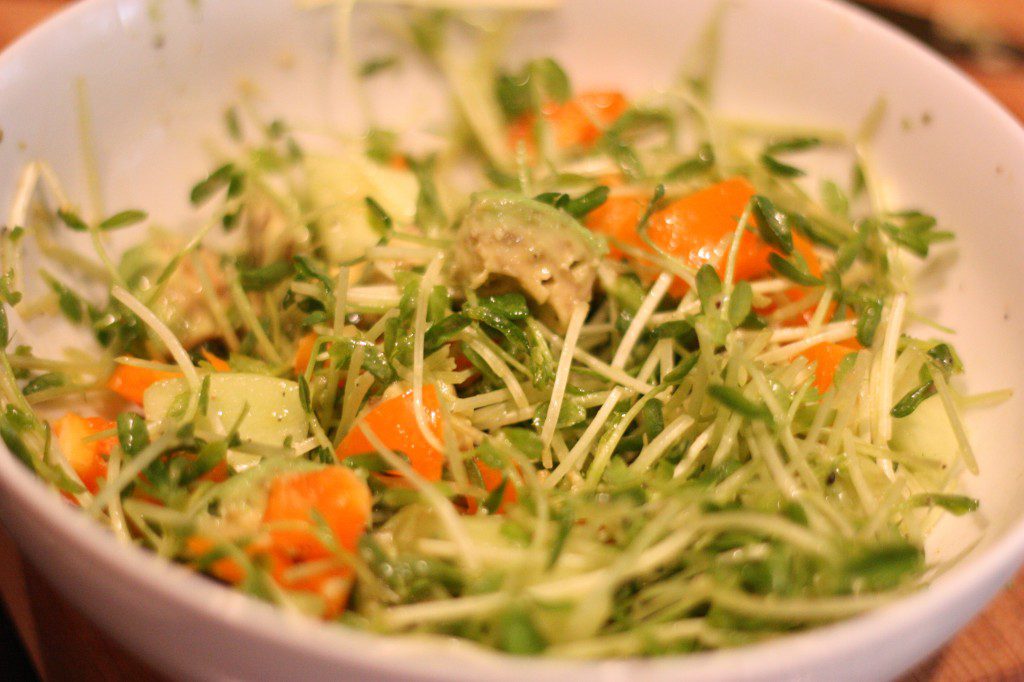 Sno pea shoots, avocado, honeydew melon, and orange bell pepper salad with a mandarin orange vinaigrette.  Pretty fancy pants, huh?
I think it would be perfect with some edamame, but otherwise that, it was quite tasty.  I topped it with some sliced chilled chicken breast and my husband raved.  He NEVER raves over salad.  FYI.
Here's the recipe if you ever encounter a sno pea shoot that needs fixin.
Sno Pea Shoot & Avocado Salad with Mandarin Orange Dressing

For the salad

1 large handful sno pea shoots
¾ cup sliced honey dew melon
1 avocado, diced
½ orange bell pepper, chopped

For the dressing

Juice from 3 mandarin oranges (about 1/8 cup)
1 Tbsp olive oil
1 tsp lemon juice
Salt and pepper

Combine salad ingredients in bowl.  Whisk together dressing ingredients.  Mix gently to combine.
Danielle creates personal eating strategies for busy men and women through individual nutrition counseling,
cooking classes
and digital programs. She inspires working parents, busy families, and stressed out professionals to change the way they think about food. Danielle is also a cookbook author, nutrition and culinary spokesperson, and recipe developer.
Click here
to sign up for her Confident Kitchen newsletter.
Latest posts by Danielle Omar (see all)